It's hard to believe it's been a whole year since lockdown rules began, but we have turned a corner and there is light at the end of the tunnel. We've taken the first steps towards the easing of restrictions, but a social distanced walk and a coffee will still be routine for a few more weeks.
Grabbing a coffee from our favourite barista is one of life's simple pleasures but if, like us, you prefer the roast you make at home or can't bring yourself to pay £3 for a cuppa then you need to get your hands on a Smidge Travel Cup. Make your drink of choice at home and off you go. No fuss and save some money along the way.
Why Smidge?
There are plenty of reusable coffee cups on the market and it can be difficult to know what you want or need. Different materials, drinking lids, sizes, designs, the list goes on… At Smidge we looked at all the elements' you look for when choosing a travel cup and brought them together to give you the best option and of course, at a great price! We might be a bit biased, but we think it's ok to blow our own trumpet once in a while.
Do you need a travel mug?
Do you travel, wander, walk, commute? Do you want your favourite drink with you on the go? Do you have a busy life with work, kids, housework and find you never have time to enjoy a full hot cup of tea? Do you work in an environment where having an open cup isn't always the safest option? If you answered yes to any of these, then you definitely NEED one!
The main premise of a travel cup is to keep your drink hot or cold for a prolonged length of time, give you the confidence to throw it in your bag or pocket without it spilling everywhere and withstand life's bumps and bruises. The Smidge travel mug does just that.
In technical terms, the body of the cup is made using a double walled vacuum insulation. A bit of a mouth full but it's just the same principle as double-glazing windows. Two layers of stainless steel create a vacuum meaning heat can't escape. Thanks to this and our brilliant lid design, Smidge travel cups keep your drinks hot for up to 6hrs and cold for up to 12hrs.
Finding a 100% leakproof travel cup can be tricky. 'Spill' proof is great for little mishaps but unless you are able toss it in your bag and go about your day without any fears it just isn't good enough. At Smidge we are proud to say our travel cup lid is 100% leakproof. The screw top lid has two watertight silicone seals to ensures no mess. And for added protection the doubled walled cup base eliminates condensation build-up on the exterior when enjoying an ice-cold coffee.
If you're taking your cup out and about you also want to be sure it can handle a few knocks. Using strong and robust food grade 18/10 stainless steel means if you drop it, it may gain a dent or two, but the performance won't be affected.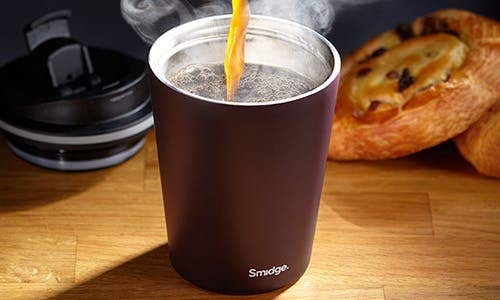 ---
How easy is it to clean?
Have you ever found there is a weird smell from your cup? Or your tea and coffee doesn't taste quite right? It probably means something unwanted is hanging around, especially in the lid. Some lids aren't designed too well, so can't be cleaned easily meaning dirt and residue can quickly build up - yuck.
To ensure you can always enjoy any drink in the healthiest and most hygienic way, the Smidge cup lid is easy to take apart and clean it thoroughly. It's even dishwasher safe so keeping your drinks tasting fresh is simple - if you want to know how to do it, watch the video here. Just remember, the cup is handwash only (although we're working on that!).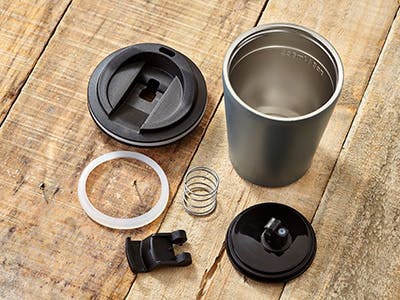 ---
Can I use it at my local coffee shop?
The Smidge travel cup comes with barista standard internal measuring guides. The cup base is also designed to match a standard take away cup so fits under most coffee machines. Before the pandemic hit most, if not all coffee shops were accepting reusable cups.
They even offered discounts for those who did have a reusable cup. Currently some coffee shops have stopped accepting them in order to keep their staff as safe as possible but as we step back to normality, they are beginning to be accepted in more locations so you can start saving again.
---
One size doesn't fit all…
Are you the type who needs a quick pick me up to start the day or do you need to be constantly sipping on coffee right up until lunch? You may be one or the other or both, then again it may depend on the day. We understand that needs change and one size does not fit all. That's why we have three sizes available 8oz, 12oz & 16oz. That covers a Short, Tall and Grande in Starbucks, a small, medium, and large in Costa, and all the other quirky names in between that your local coffee house uses. The leakproof lid is also universal between all sizes.
We also know not everybody's style is the same. So, whether you choose to be bold and bright, or soft and serene we have options for all. 9 to be exact!
---
Three Top Tips for getting the most out of your Smidge Travel Cup
Like most things in life, once you start using them you find little way for them to work more efficiently. Here are some of our tips for getting the most out of you cup.
HOT, HOT, HOT - If you like your coffee almost straight out of the machine and into your mouth we suggest preheating your cup. Before you make your coffee put some boiling water into your cup. This will heat the cup ready for your fresh piping hot coffee. This will also help keep it even hotter longer!
No Leaks – We all know steam rises and hot air causes pressure. When putting the lid on your cup make sure the drinking cap is open. This allows the lid to go on securely without any air pressure to compete with. Close the drinking flap, shake over a sink (just to be sure you screwed it on properly) and off you go.
So Fresh & So Clean – If you use your cup daily, a quick wash in the evening during the week will be enough. At weekends we would suggest doing a deeper clean. Get rid of lingering smells and dirt build up by taking the lid apart and soaking for a bit. This is also suggested if you leave the cup in your car or bag for a little longer than planned… don't worry we all do it!