THE QUEST FOR A PLASTIC FREE LIFE
Did you know, plastic waste is the second biggest environmental worry after climate change?* As more and more people adopt new habits to try living life without plastic, governments and local councils are also taking actions towards a more sustainable future.
PLASTIC-RELATED REGULATIONS COMING INTO EFFECT
As a step in the right direction, the European Commission have compiled a Plastic Strategy which dictates that all plastic waste will be recyclable by 2030. The Single-Use Plastics Directive forms part of this document and bans all single-use plastic products for which alternatives exist, such as disposable straws, cutlery, cotton bud sticks. At the same time, it also includes several points aimed at reducing the use of plastic in food and beverage containers.
If we look back at the Plastic Bags Directive which was launched in 2015 and introduced extra charges for single-use plastic bags, we are really happy to find that this has helped with changing our behaviour as shoppers – do you know how many of us now carry a reusable shopping bag when going to the supermarket? 7 people out of 10 – whoop!*
*Report on 'Consumer response to plastic waste' by Kantar published in September 2019https://eur-lex.europa.eu/eli/dir/2015/720/oj
WHAT ABOUT ME?
While these governmental measures are extremely important and making a real impact, it has become clear that they are not enough to quickly turn the plastic tide. It is also down to all of us as individuals and communities to do our bit and look at ways we can help. So, how to start living plastic free – we hear you ask?
We all know this is a complex and broad subject, but we also know that the first step is half the journey! It is fair to say that removing plastic completely from our lives from one day to the next would be practically impossible, so our first tip towards a plastic free life is…
1. Break it down and build good foundations!
Some people say it takes 21 days to turn an action into a habit, some others doing it at least 90 times… either way, the point is: it will be very difficult to change your whole lifestyle completely overnight and keep it up long-term! So we have looked at our own lives and the environments in which plastic is most present.
We all agreed that our own kitchens and any food-related situations seem to play a big part in our dependency from plastic. So this is exactly what we will focus on first – the kitchen! Are you coming with us on this journey?
Below, you will find a list of small and practical tips to start living plastic free. Remember – pick a few to start with, turn those into habits first and once you are comfortable with those, move on to the next lot. Slowly but surely… next thing you know, in a few months you'll be well on your way towards a plastic-free kitchen!
HOW TO REDUCE PLASTIC USE IN THE KITCHEN
We have divided our tips for plastic free living into 6 sections that tackle different situations. Feel free to go through them one by one or skip to the section you are mostly interested in by clicking below: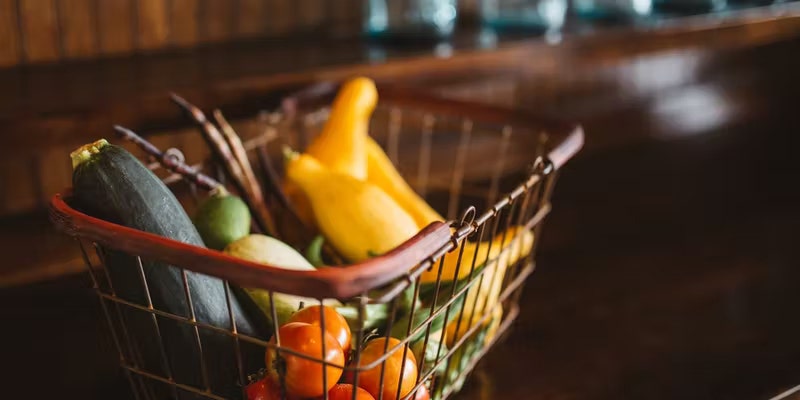 PLASTIC FREE GROCERY SHOPPING
Quite a lot of plastic can be avoided before your food even gets into the kitchen.
2. Bring a reusable shopping bag
The first step towards living a plastic free life is the now oh-so-common reusable grocery bag. If you haven't adopted this habit yet, we promise it'll be really easy to pick up. What you need to do is always keep a foldable bag in your purse, rucksack or car boot and there it'll be when you need it.
Nowadays, there are versions of these which are so light and compact, that you won't even realise they are in your bag. Also, whatever colour or pattern you want, you are sure to find one that's perfect for you as the choices are literally endless!
3. Choose loose fruit & veg
Quite a few big supermarket chains now provide un-packaged fruit and vegetables, and we have started seeing bulk bins with nuts and dry foods too. Very often biodegradable or net bags are available next to them, but if this is not the case, feel free to pop your loose bananas and aubergines directly in your basket.
If you need to weigh and label, the sticky label can be stuck directly onto your food as it will easily peel off when you get home. If your carrier bag gets a bit dirty, normally a quick wipe will do, or otherwise you can just stick it in the washing machine every so often for a proper clean.
4. Shop at local farms and farm markets
Not everybody will have access to these, but if you do – they are great! Not only will you be able to have access to all sorts of un-packaged foods, but you will also know that what you are buying is local and has a very low carbon footprint.
We suggest doing a quick google for farm shops and eco shops around you, sometimes these places are not very big and you may have never realised there's one close to where you live!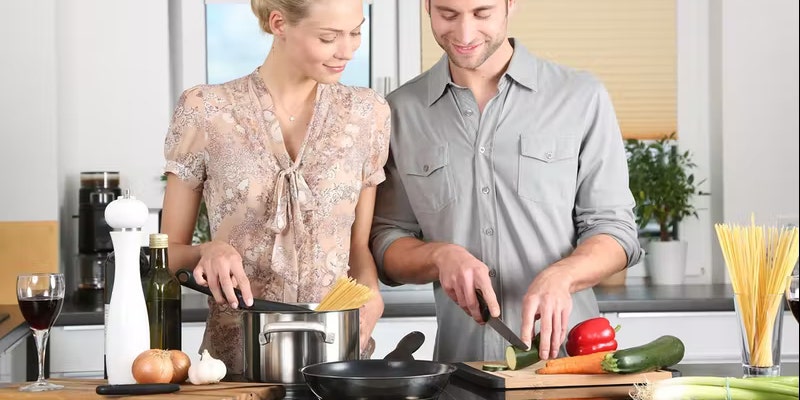 HOW TO USE LESS PLASTIC IN THE KITCHEN WHEN PREPPING, COOKING & EATING
5. Compostable/refillable coffee pods and coffee machine paper filters
Are you a coffee lover? Do you use a coffee machine at home? If your machine uses capsules, there are quite a few brands out there that sell refillable coffee pods or compostable ones. We, for example, love Halo Coffee.
"Less than 1% of the 60 billion capsules produced in 2019 were made from compostable materials. Aluminium and plastic pods dominate the industry and the majority of these pods will end up in landfill or the oceans, where they will remain for up to 500 years. Our planet needs us to support sustainable initiatives and products that adhere to the principles of the circular economy." - Sarah Lim, Business Development Director at Halo.
If you have an American style coffee machine instead, paper filters can now be found in most common supermarkets.
6. Eco-friendly chopping boards
If you do a lot of chopping and dicing when you cook, you might want to look into upgrading your cutting boards. Wooden ones are lovely and very easy on the knives, but if you are after the convenience of being able to just pop them into your dishwasher, these eco chopping boards made from salvaged paper may be a better option.
If you like having separate boards for different kinds of food, pick a range that includes different colours so it's easy to know which is which.
7. Stick with plastic free, good quality utensils
We are by all means not saying that you should throw away everything made of plastic in your kitchen. If you already have some plastic utensils, keep using them and look after them so they can last as long as possible.
Only when they are tired and old and you need new ones, replace them with plastic-free versions. The better quality you can afford, the less often you'll have to replace them – another step towards waste free living.
8. Plastic-free parties and BBQs
When it comes to eating and tableware, parties, BBQs and general hosting situations are one of the biggest single-use culprits – forks, knives, cups, straws… We completely understand that disposable options are convenient and easy, but here's the good news: nowadays you can find some disposable tableware products that are also eco-friendly. Areca nut serving trays and paper plates (those without the thin shiny plastic layer, of course) are just an example.
PLASTIC-FREE, ZERO WASTE PACKED MEALS
Whatever stage of life you are at, chances are you sometimes need to bring your lunch with you – to the office, to uni, to have a quick bite while you are on the move.
9. Lunch boxes
The baseline here is a reusable, sustainable lunch box. What kind of capacity do you need? Knowing what size meals you normally bring with you is a good starting point for your research. Also important: do you need it to be microwave and dishwasher safe? Or is it most important that your food container is completely leak-proof? Do you want to be able to keep your foods separate? Understand what you need, so you can purchase once and with confidence.
Here are a few options depending on your needs: 100% leak-proof stainless steel lunch boxes and lunch boxes with compartments. If you like to also pack a drink too, we suggest considering an insulated water bottle.
10. Reusable cutlery
If you bring food with you from home, you'll need something to eat it with – nothing better than a compact and lightweight travel cutlery set. There are lots out there, and we suggest going for one that keeps your cutlery set together. The last thing you want if finding a loose fork at the bottom of your backpack!
One thing to note here – we are personally not huge fans, but we know some people out there are 'spork' enthusiasts so we thought we should mention this as an option. We feel with sporks you end up getting frustrated cause you have neither a proper fork nor a decent spoon, but this is undoubtedly a form of compromise if all you can afford in your lunch bag space-wise is one single piece of cutlery.
11. Reusable straws
The people behind FinalStraw have said it best with their mermaid video – we need to think reusable straws. No need to tell us a straw in your cocktail gives that extra chic touch to the final look! So if you are someone who loves hosting friend nights or summer garden parties, reusable straws will be a major ally for a waste free lifestyle.
When we feel particularly extravagant and fancy, we serve our cocktails with both a curved and a straight straw, and considering the amount of guests we normally have at our gatherings, there is no way we would want to clean them all by hand at the end of the night. If you are a bit like us, these dishwasher-safe metal straws are a good option.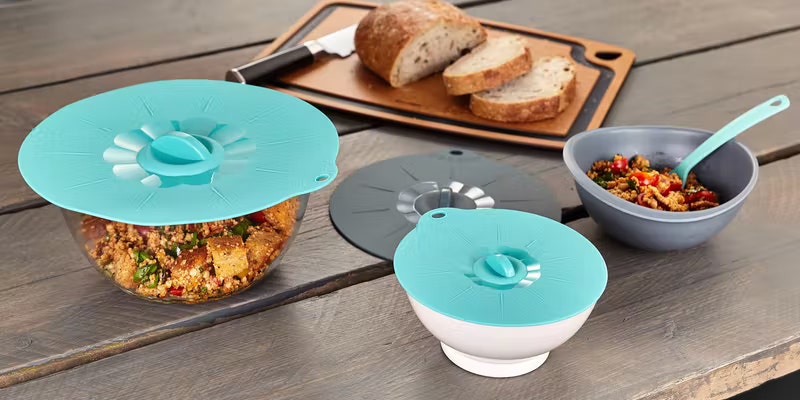 PLASTIC-FREE FOOD STORING AND PRESERVING
What are the first two things that most people think about when it comes to preserving food in the kitchen? Cling wrap and single-use freezer bags. And most people also don't know that there are very easy-to-find and convenient alternatives out there that can completely solve the problem! Read on…
12. Beeswax and vegan wax wraps
Trust us, these are a must for any waste free kitchen – be it food waste or plastic waste! They are sometimes referred to as 'biodegradable cling film'. There are so many sizes and pattern options out there that you will be sure to find one that tickles your fancy and matches your kitchen.
Here's what we like most about them: they are 100% natural; you can literally wrap any kind of solid food and cover any sort of container or bowl; you can top them up with wax refresher packs if they start becoming less clingy, so you can keep reusing them for as long as you want; you can throw them in your home compost bin if they get particularly knackered.
This collection of reusable food wraps has it all: sets of most commonly used sizes, rolls that you can cut yourself if you can't find the exact size you want, sandwich wax wraps, refresher packs, as well as the vegan versions of all of the above.
13. Silicone bowl covers
If you normally mainly use cling wrap to cover bowls with leftovers, silicone bowl covers that create an air-tight seal are a great option for living a waste free life. They keep your food fresh and have you completely covered (pun intended).
14. Reusable freezer bags
A waste free family would tent to freeze a lot of their leftover food. Rather than relying on single-use plastic freezer bags, reusable silicone freezer bags are a great alternative. They can also be used outside the freezer as storage bags, as they can help keep dry foods crispy and fresh so you can buy big family packs and divide those into smaller portions.
15. Storage boxes and air-tight jars
Don't underestimate the power of a good storage container or air-tight jar, as they can be great to preserve foods of the likes of cookies, pasta, rice and dry beans. Plus, they can look really quite nice when on display on your kitchen shelves or countertop.
PLASTIC FREE KITCHEN CLEANING
And when a meal is over, unfortunately the time comes to give the kitchen a bit of a scrub and do the washing up. We decided to include this section in our plastic free living tips as we found that a lot of people don't necessarily associate plastic waste with cleaning.
16. Prefer reusable cloth wipes
Reusable cloth wipes are a great alternative to disposable wipes. In recent years, beach clean surveys by the Marine Conservation Society have shown that wet wipes are one of the most increasing single-use items washing up on our beaches.
By opting for reusable cloth wipes instead, you can use your cloth again and again and give it a proper wash in the washing machine when it becomes a bit grubby.
17. Cardboard-packaged dishwasher powder & biodegradable tablets or pods
Nowadays it is quite easy to find eco-friendly dishwasher liquid or powder options in any common supermarket. If your preference is powder, then opt for brands that use cardboard boxes which can be recycled rather than plastic containers.
If your preference is liquid wash, look for eco pods that use a biodegradable film (meaning you will put the whole thing into the dishwasher and the film will completely disintegrate during the cycle). Same thing for dishwasher tablets – those with an eco-wrapper that dissolves in water are the way to go.
18. Washing up liquid and soap refill stations
The next level up of living life without plastic is to look for shops that provide refill stations for both washing up liquid and hand soap liquid. The way they work is – you bring your own container and they fill it up for you with your washing liquid of choice.
Unfortunately, currently in the UK there aren't a huge amount of stores that provide this service, but we have seen the number increase recently and if you are lucky enough there will be one not too far from where you live. A quick google search should reveal any handy refill stations near you.
REDUCE PLASTIC POLLUTION IN YOUR BIN
Your plastic-free living in the kitchen doesn't stop here. While having a 100% waste free kitchen is almost impossible, a lot can still be done to reduce plastic waste even when you are throwing stuff away in your home bin.
19. Recycle as much as possible
Make it easy for yourself by ensuring your recycling bins are easily accessible. Let's face it – if every time you want to access your recycling station you have to open a hundred doors and walk a hundred miles to reach the back of your garden, you'll end up not recycling as much as you could.
A lot of councils only provide one big bin for each material – plastic, paper, glass, cardboard etc. – which realistically would never all fit in an average-sized kitchen. So the way we suggest doing this is: have small recycling containers or rigid bags in the kitchen (either under the sink or in a corner) and keep the bigger bins outside. This allows you to avoid having to leave the kitchen every time you want to recycle something. Once your containers in the kitchen are full, then you can make a trip to your recycling station outside.
Although some types of plastic unfortunately cannot be recycled, quite a few can! Before you throw something away, have a quick look at the packaging and if it is says 'widely recycled', it can go straight into the plastic bin.
20. Compostable trash bags
When buying trash bags for your kitchen and the rest of the house, go for compostable or biodegradable ones rather than single-use plastic garbage bags. Also, when you put rubbish in your bin, squash everything so it reduces in volume. This will allow you to fit more rubbish into the one bag and reduce the amount of overall trash bags used in your kitchen!
OUR CONCLUSIONS ON HOW TO REDUCE PLASTIC WASTE IN THE KITCHEN
You asked us how to reduce plastic in the kitchen and we hope this list of practical tips helps you achieve your plastic free living goals.
As you can see, a lot can be done to start tackling plastic waste in the kitchen, with our main and first top tip being – focus on just a couple of actions at a time until you feel they have become habits, then move on to the next step.
Don't feel like it's either all in or all out; this is a long term game where perseverance and endurance are far more important than quick gains which only last a couple of weeks. It only takes a little thing to make a big difference, every day.