SMIDGE LUNCHBOX BAKED FETA PASTA
Lockdowns 1 & 2 has had us perfecting our banana bread, attempting sourdough from scratch (this one has NOT gone well at our end) & treating ourselves far too often to a Quarantini. For lockdown #3 we needed something new! TikTok came to the rescue and provided us with the newest phenomenon. One, might we add, that did not involve us dancing with our younger family members for them to post & joyfully embarrass us in front of millions!
Baked Feta Pasta
This recipe originally showed up on Finnish blogger Jenni Häyrinen Instagram in 2019 and resulted in Finish people struggling to get their hands-on feta. With its resurgence in popularity, we forecast a UK feta shortage next!
Now, in our eyes this was bound to be a success. As Joey Tribbiani would say… What's not to like? Pasta, good. Feta, good. Garlic, good. Tomatoes, good. And with working from home and not venturing too far from the four walls of our houses. This seemingly simple & quick recipe made it perfect for a cold February night. But was it really going to be as easy as the videos suggest? Or taste as good as our imagination was leading us to believe?
The large Smidge lunch box is oven safe up to 240°C. More than 6cm deep, so mixing all the ingredients together meant we wouldn't have food go everywhere! It's also dishwasher safe for an easy, speedy clean up. The perfect product to test this recipe out.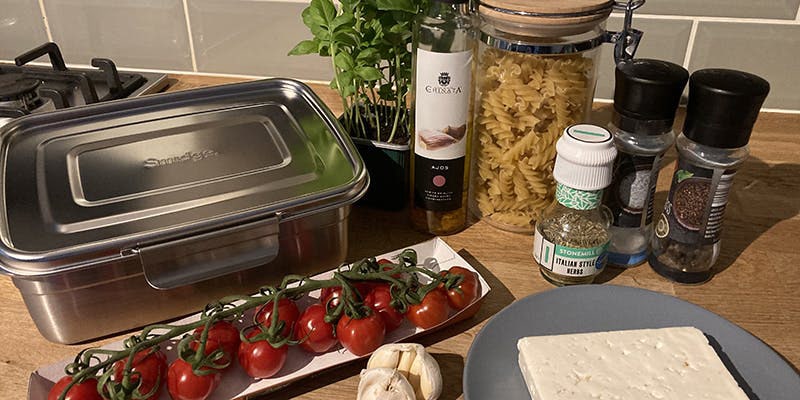 HOW WE GOT ON...
We grabbed our lunch box. Wacked all the ingredients in and popped in the oven for 35mins. Now, the most 'technical' part of this was cooking the pasta. But as a household who would gladly live on nothing but pasta. We had this one in the bag!
Once everything was cooked. It was simply a case of mixing it all together. And hey presto dinner was ready. We served ours with a glass of white wine & a side of garlic bread. As we said. Garlic, good. Overall verdict, a warm cheesy, carby, tomatoey hug in a bowl. Ideal for the carb loading we are indulging in throughout this pandemic. We made sure to keep some lunch the next day and can confirm it's as good cold as it is hot. This will make for the perfect BBQ side in the summer. Cook it all up in the lunch box. Pop the lid on. Store in the fridge. And serve when the burgers and sausages are ready. Yum!
As good as it was, I think it could be brought to the next level very easily. A shallot or two & a splash of white wine before everything goes in the oven? Some sun-dried tomatoes? And for the meat lovers out there, some bacon lardons or chicken pieces would also bulk it out. We have also heard of some switching out the feta for brie.... YASS!
BAKED FETA PASTA RECIPE
Serves 3-4
INGREDIENTS:
1 Block of feta cheese (200g)
400g tomatoes (Piccolo, Cherry or Baby Plum)
Olive Oil
Salt
Pepper
Italian Herb Seasoning
350g Pasta
Fresh basil
Two cloves of garlic

INSTRUCTIONS:
Preheat the oven to 200°C.
Into a Large Smidge Lunch Box pop in the tomatoes. Drizzle with olive oil. Season well with salt, pepper & Italian seasoning. Shake to mix.
Place the block of feta in the middle of the lunch box. Top with more olive oil and season.
Bake in the oven for 35 mins until the feta is browning and soft.
While feta is baking. Cook pasta in salted boiling water for 8-10mins until al dente. Drain & leave to one side.
Chop two cloves of garlic and fresh basic.
Remove lunch box from oven. Mash feta & mix with tomatoes using a fork while adding in chopped garlic.
Add cooked pasta & mix well.
Finally, add fresh basil & combine. Ready to enjoy!