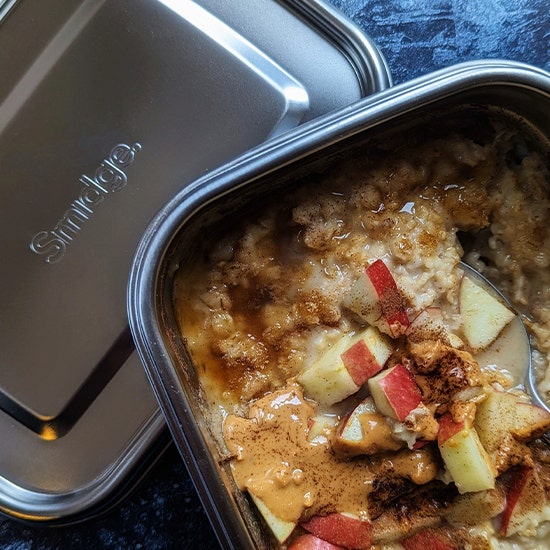 Try our no fuss baked porridge recipe for a simple and easy breakfast. Mix all the ingredients in one of our stainless steel lunch boxes and pop in the oven. Easy.
---
Serves: 2
Prep Time: 2 mins
Cooking Time: 25 minutes
---
The Basics:
50g jumbo porridge oats
50g quick cook oats
300ml water
Pinch of salt
¼ tsp cinnamon
150ml milk of your choice, plus extra to serve
Turn your oven on to 170C fan.
Add the oats and the water to your lunch box to soak whilst your oven is pre-heating. We cooked this recipe in our 1L box
Once you're oven is ready, add in the salt, cinnamon and milk. Give it all a good mix and bake in the oven for 25 mins.
Remove from the oven and add your toppings!
The Good Bits (Toppings)
At this time of year, we like to keep it simple:
sprinkle of brown sugar
chopped apple/pear
dollop of peanut butter
But it's your blank canvas, add whatever you'd like. We just recommend following the porridge trio: crunchy, salty, sweet.