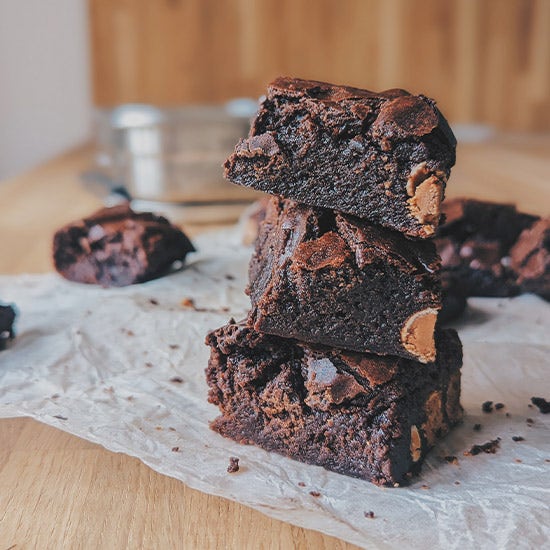 Leftover Easter chocolate to use up? (Us neither but go along with it ok...) Try out these super fudgy brownies that are mixed in one bowl and then baked in our 2.5L stainless steel lunchbox!
---
Prep Time: 10 mins
Cooking Time: 35-40 minutes
---
Ingredients
230g unsalted butter

300g chocolate of your choice (we used dark chocolate + mini eggs)

300g caster sugar

165g soft brown sugar

1 teaspoon vanilla extract

1 teaspoon salt

3 large eggs

155g plain flour

40g cocoa powder
Method
Preheat the oven 200°C/fan 180°C/gas 6.
In a heatproof bowl over a saucepan of simmering water, melt the butter and 200g of your chocolate.
Once melted and combined, take off the heat and add the caster sugar, brown sugar, vanilla, and salt.
Next crack in the eggs and mix all together.
Using a sieve, add the flour and cocoa powder into the bowl and fold in with a spatula.
Fold in the remaining 100g of chocolate.
Line the Large Smidge Lunch Box with baking parchment and pour in the mixture and spread evenly.
Pop in the oven and bake for 35-40 minutes. Insert a knife/toothpick in the centre and if it comes out with a few moist crumbs attached, you are good to go!
Let cool completely before cutting. Enjoy & try not eat them all at once!